OnePlus has admittedly had a busy start to the year. Just last week it showed off a new prototype smartphone called the OnePlus Concept One with 'disappearing cameras', and today it's prepared to announce the details of its upgraded 120Hz screen. OnePlus CEO Pete Lau confirmed the announcement earlier this morning on a quick Weibo post. Meanwhile, a Geekbench listing allegedly belonging to the upcoming OnePlus 8 Pro has popped up online. The listing reveals that the OnePlus 8 Pro could come in a 12GB RAM variant.
With just a few hours left to go for OnePlus' big announcement about its new screen tech, CEO Pete Lau let the cat out of the bag on Weibo. In his short post, he stated that the company has completed the research and development of a 120Hz screen, the customisation of which is apparently simple. We can expect to see OnePlus' new 120Hz screen on at least one of the models in the upcoming OnePlus 8 series. By that we mean we definitely expect to see it on the OnePlus 8 Pro. The new screen will act as an upgrade to the 90Hz screen that currently does duty on the OnePlus 7T and OnePlus 7T Pro.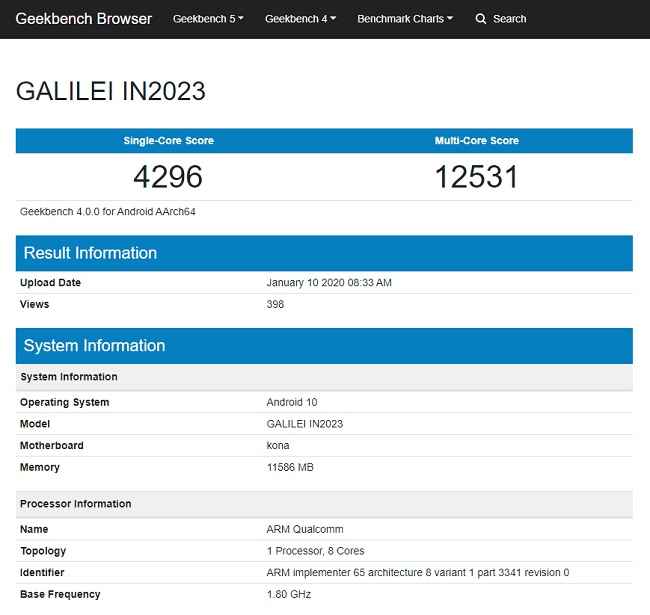 In the meantime, a Geekbench listing reportedly carrying the scores of the OnePlus 8 Pro has been spotted online. It also reveals that the flagship could be sold in a 12GB RAM variant, among others. Reported by IndiaShopps a couple of days ago, the listing tells us that the OnePlus 8 Pro is codenamed 'GALILEI IN2023', features a 'kona' motherboard, and runs Android 10. It could be powered by the new Qualcomm Snapdragon 865 chip, while the cheaper OnePlus 8 Lite gets a MediaTek Dimensity 1000 chip. We suggest you take this information with a pinch of salt as it's not official.
The alleged OnePlus 8 Pro appears to have been tested on Geekbench 4 even though Geekbench 5.0.3 is the latest version. Its scores are 4296 for single-core and 12531 for multi-core. The OnePlus 7 Pro with 12GB of RAM, by contrast, bagged 3413 on single-core and 10603 for multi-core on Geekbench 4 when we reviewed it in late October 2019. You can read our review of it here. If you'd like, you can also read our review of the OnePlus 7T Pro McLaren Edition here, which is the latest top-of-the-line OnePlus flagship smartphone you can buy today.
from Latest Technology News https://ift.tt/2R9QdrQ